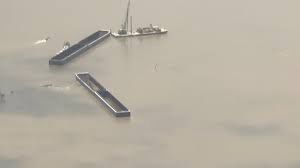 Stuck In The Mighty Mississippi Mud Cause's Trouble For Barge's And Crop Yield.
The record low water levels on the Mississippi strands barges putting a damper on river transportation and crop production. If it wasn't bad enough with labor and transportation issues low water levels is a real gut punch.
Hopefully we can weather through these issues and get back to a norm we saw pre pandemic.
Here is a great article in ABC 7 by Desmond Nugent Tuesday, October 11th 2022
Jefferson County (KATV) — The low water levels from the Mississippi River are at a dangerous point and officials with the Arkansas Farm Bureau said it's hurting farmers around the state.
Tyler Oxner with Arkansas Farm Bureau told KATV that this year has endured a historic drought and the low water levels are creating issues for barges.
"Plain and simple the solution for this is rain, we gotta have rain and we're gonna need and you're gonna need a lot of it," Oxner said.
According to Oxner, the Mississippi River is used as a waterway to transport other crops.
"If looked like to use we're losing 4 to 6 inches of water level a day," Helms said. "There's no runoff water, Nobody's irrigating, there's no rainfall, the rivers in the river we've had lots of dams close so there's no backing it up into this so it's just a real water shortage."
Oxner said recently the largest US barge operator called the low water levels a state of emergency. According to Oxner, he believes it's too early to tell if the water levels are at a state of emergency stage.